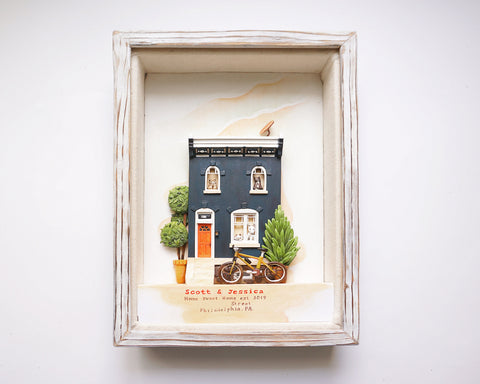 SweetDatesPrints
Custom Watercolor House Portrait, Hand Painted Home, House Painting, First Home Gift, Christmas Gift
Show more
These uniquely made illustrations are great gifts as
⚫️ Housewarming Gift
⚫️ Purchase of a first or new home
⚫️ Birthday
⚫️ Wedding
⚫️ Realtor Closing Gift
⚫️ Holidays (Mother's day, Father's day, Memorial, Easter, etc)
⚫️ Moving Away Gift
You can either just gift your friends or beloved the illustration in paper or elevate it to a hand made clay house miniature
You can start working with me by sending me a photo of the house to [sweetdatesprints@gmail.com](mailto:sweetdatesprints@gmail.com) or via Etsy message. The best photo would be of high quality resolution and a straight on view of the house, but I can probably work with what you have. The more photos the better! Please feel free to contact me if you have any questions. :)
If you would like to add a few lines of text such as "The Tacken Residence" or the street name written underneath or any special memorial message, please let me know. Besides house, we can also illustrate people and pet which could certainly be included in the house portrait itself. Illustration fee will be adjusted depending on the number of added illustrations. Kindly convo with me via Etsy.
Turn around is 2-3 weeks, but if you need it by a specific date, please let us know and we will try to accommodate you.
## ▶️ HOW TO ORDER
At check out, please send message us the details if you like or
Send photos of the house via ETSY message or by email
EMAIL: [sweetdatesprints@gmail.com](mailto:sweetdatesprints@gmail.com)
1. Photo of House
2. Name of family (Optional)
3. Special message (Forever Home, Home is Where Love is, etc)
4. Font Style
5. Home address (We can replace or add coordinates, just need address)
6. Just leave any notes you want to change or add
Please be as specific as possible, so that can digitally craft your UNIQUE home illustration
We will send you a PROOF of what it will look like usually within 2-3 days
## ▶️ TYPES OF PRODUCTS
⚫️ DIGITAL DOWNLOAD
If ordering a digital download, you will receive a HIGH RESOLUTION file in the format of JPG, PNG, and PDF at 300 DPI (Dot per inch) via email/download. You can use these to print locally at your nearest print store and will always have a copy. (NOT A PHYSICAL PRODUCT). You can request them in any size, we are more than happy to accommodate in way!
- High Resolution File in JPG, (Available in PDF or PNG too)
- Great for people in a time crunch. You can print it locally
- Adjustable to any size
⚫️ POSTER PRINT
Our poster prints are printed with archival inks onto premium grade photo luster paper. They look amazing in person, especially with these type of designs. We offer prints in 3 following dimensions:
- 5x7 inches
- 8x10 inches
- 11x14 inches
The posters will be shipped unframed.
## 📝 GOT QUESTIONS?!
✅ How fast can I get these delivered?
➕ We try to get the digital proof done for you within 1-2 days from the day we receive your inquiry. Once you approve the digital proof, we'll go ahead and get it ready for print and ship, usually takes 5-7 days for delivery from when the proof and processing is done
- Within 3 day for digital proof, revisions, and approval
- 1-2 days for processing
- 8-10 business days for shipping
✅ How many revisions can I make?
➕ As many as needed! We want you to have the best experience and product ever!
✅ How do I send the picture of the house or objects for illustration
➕ Please send to [sweetdatesprints@gmail.com](mailto:sweetdatesprints@gmail.com)
FAQ
Share your best answers
Sample Kit - This option is for clients considering this design but seeking more information and firsthand experience before committing to a purchase. Sample kit includes a pre-made invitation suite showcased in the product images. Purchasing a sample is highly recommended for a precise understanding of the final products. During checkout, clients can inquire to receive paper swatches under custom options or about other designs in our collection. We will strive to prepare the sample accordingly.
Digital File - This option is for clients seeking our design for intermediate use with minimal customization. We provide design assistance without handling the printing process. The deliverable includes invitation design files. Clients are permitted to make changes to font, size, and color, with restrictions on altering the overall layout and shape.
Invitation Order Deposit - This option is for clients committing to a comprehensive custom design order, covering the entire process from design to the shipment of the final prints. The deposit made during this stage will be subtracted from the total invoice at a later phase.
One wedding invitation suite includes:
-A7 Invitation, plus A7 envelope and envelope liner
-A6 RSVP card, plus A6 envelope
-A6 Detail card
-A belly band
Please read our Design Guide before placing your order.
Digital - submit wording template link
Deposit - request a full quote template link
Once you place your order, we will email you for confirmation and might ask a few questions to ensure everything is just right. You can also leave a note during checkout. Nothing will be printed or sent without your approval!
If you opt for a digital invite, we'll share designs online for you to edit. We're here to help for a result you'll love.
For custom designs and prints, we will create a digital proofs based on your submitted information and wording. You get three free changes, and after that it's $10 for each additional change. We suggest ordering 10–15 extras for any guest list changes.
4 to 6 weeks from order to delivery
Turnaround time depends on print method, scope of customization, and client response times